Da li ste i ove, kao i prošle i svake godine, opet u nedomici šta to beše UVA, a šta UVB zaštita kod preparata za sunce? Da li je sunce najopasnije od 10 ili 11 sati? Nudimo vam priliku da ove lekcije savladate jednom za svagda i još osvojite POKLON!

Sunce je izvor zdravlja, ali i zabave i uživanja. Ni jedna žurka nije kao žurka na plaži ili pored bazena? Uz koktele? Savršeno! Ili, možda vožnja bicikla nakon smutija? Šetnja pored reke? Bezbroj je razloga zbog kojih jedva čekamo da dođe leto!
Sunce je zavodljivo i navodi nas da verujemo da će, ma koliko nas okolina upozoravala, opasnost zaobići baš nas. Jeste li zaista spremne da tako nepromišljeno (opet) rizikujete? Mi nismo. Zato smo u saradnji sa Eucerin Srbija, pripremili podsetnik neophodan da vaše leto zaista prođe bezbrižno i u uživanju.
7 najvažnijih istina o sunčanju
1. Zašto nije dobro da pred leto par puta posetim solarijum?
Samo jedno korišćenje solаrijumа povećаvа rizik zа nаstаnаk melаnomа, najopasnijeg raka kože, zа 6%. Upotrebа solаrijumа uzrok je 76% melаnomа u uzrаstu od 18 do 29 godina i to češće kod mlаdih ženа i onih koji mogu "dobro dа pocrne". Kada 20 puta posetite "turbo" solarijum izložili ste se UV zrаčenju 12 putа više od prosečnog godišnjeg izlаgаnjа suncu.
Ukoliko vam ova statistika nije dovoljan razlog da od solarijuma odustanete evo i dodatka – upotreba i prodaja solarijuma je potpuno zabranjena Austrаliji, а u mnogim zemljаmа Evropske Unije zаkonom je zаbrаnjenа upotrebа solаrijumа zа mlаđe od 18 godinа, dok je zа stаrije od 18 godinа neophodаn potpisаn informisаni pristаnаk dа su upoznаti sа svim rizicimа koje nosi solarijum.
2. Kakvu štetu, osim opekotina mi može naneti sunce?
Sunce emituje UV zrake koji mogu izazvati opekotine, fotostarenje kože, slabljenje imunološkog sistema, alergije, fototoksične reakcije i, čak, rak kože. Brojna ispitivanja utvrdila su, a Svetska zdravstvena organizacija i zvanično potvrdla, da je jedan od važnih faktora rizika za nastanak melanoma, najopsanijeg raka kože, intenzivno izlaganje UV zračenju, posebno ukoliko je praćeno opekotinama. Koža sve pamti, a 80% ukupnog negativnog efekta sunčevog zračenja akumulira se do 18. godine, te je rizik oboljevanja od raka kože znatno veći upravo kod onih osoba koje su u tom dobu bile izložene opekotinama od sunca ili koristile solarijume.
3. Šta su UVA a šta UVB zraci?
UV radijacija je podeljena u tri segmenta spektra: UVA, UVB i UVC.
UVA zraci prodiru u dublje slojeve kože, dovodeći, zavisno od vrste spektra, do pojave akutnih i/ili hroničnih reakcija u ljudskoj koži. Ovi zraci se  smatraju jednim od glavnih krivaca za fotostarenja (preveremeno starenje kože pod uticajem UV zračenja) i nastanak alergija na sunce.
UVB zraci dospevaju u najpovršniji sloj kože – epiderm, utiču na zadebljavanje rožnatog sloja  kože i stvaranje melanina. Iako ne prodiru duboko u kožu kao UVA zraci, UVB zraci sadrže mnogo više energije i izazivaju opekotine, a smatraju se glavnim uzročnikom kako direktnog oštećenja DNK, tako i karcinoma kože.
4. Da li to znači da je da za izbegavanje štetnih efekata UV zračenja dovoljno da ne izlazim na sunce kada su UVB zraci najintenzivniji a da se ostatak dana mažem kremama?
Čak i najviši faktor za zaštitu od sunca i pravilna upotreba adekvatnih preparata za zaštitu od sunca, ne mogu nas u potpunosti zaštititi od potencijalno negativnog UV zračenja. Znači, ako duže boravite na suncu, pored korišćenja preparata za zaštitu, primenite ostala pravila zaštite: ne boravite na suncu između 11 i 16 časova, nosite odeću sa dugim rukavima i nogavicama, šešire sa obodom i naočare sa UV zaštitom, u periodu najintezivnijeg sunčevog zračenja sklonite se u prirodnu hladovinu. I ne zaboravite – UVB zraci se široko rasipaju, tako da je potrebno nanositi UV zaštitu čak iako se boravi ispod drveta ili suncobrana.
5. Šta mi onda pružaju preparati za zaštitu od sunca?
Preparati za zaštitu od sunca umanjuju štetne efekte UV zračanja na kožu, a to postižu zahvaljujući formulacijama koje sadrže UV filtere, koji se prema mehanizmu dejstva dele u dve grupe. Hemijski filteri upijaju UV zrake, a potom oslobađaju tu energiju kao termalno zračenje, koje stvara osećaj toplote. Fizički filteri, koji su inače neorganski mineralni pigmenti, reflektuju ili raspršuju UV zrake koji dopru do površine kože i ne dozvoljavaju im prodiranje. Adekvatni antisolarni kremovi i losioni sadrže absorpcione filtere širokog spektra koji blokiraju i UVA i UVB zrake i pružaju visoku, SPF30 i SPF50, ili vrlo visoku SPF50+ zaštitu od štetnog delovanja UV radijacije.
6. Šta u svemu tome znači SPF oznaka?
SPF isključivo označava koliko preparat štiti od UVB zraka, koji izazivaju opekotine. Ova oznaka ustvari znači Sun Protection Factor (zaštitini faktor) i ukazuje da će koža 25, 30 ili 50 puta duže kada je namazana, nego kada nije, biti zaštićena od opekotina. Samo kada na kremi stoji i oznaka UVA, onda je vaša koža zaštićena i od UVA zraka čije su posledice dugoročne i ne mogu se odmah videti. Preparat koji zadovoljava standarde za zaštitu od UVA zraka prepoznaćete  po krugu koji sadrži slova "UVA".
7. Kakvu  ulogu u zaštiti igra količina preparata koji namažem?
Preparate za zaštitu od sunca treba nanositi u dovoljno debelom sloju na sve otkrivene delove kože i obnavljati nanošenje na 2 do 3 sata, posebno posle kupanja i pojačanog znojenja. Vodite se pravilom koje je potvrdio Eucerin® u svojim naučnim istraživanjima – uvek nanesite preparat 2 puta: jednom 30 minuta pre izlaska napolje,  a onda ponovo istu količinu kada izađete na sunce ili kada stignete na plažu žurku pored bazena, biciklističku stazu…Otprilike, to znači da će vam za jedno letovanje od 10 dana biti potrebna dva standradna preparata za zaštitu lica i dva za zaštitu tela.
Ovog leta, na raspolaganju su vam  i Eucerin®CC kreme za zaštitu od sunca sa faktorom 50 koje osim vrlo visoke i sveobuhvatne zaštite od sunca pružaju i trenutno ujednačavanje i toniranje kože lica. Tako da više ne morate da pravite kompromise između zaštitne i estetske uloge.
Eucerin vam poklanja
Sprej za zaštitu od sunca SPF 20
CC krema sa za zaštitnim faktorom 50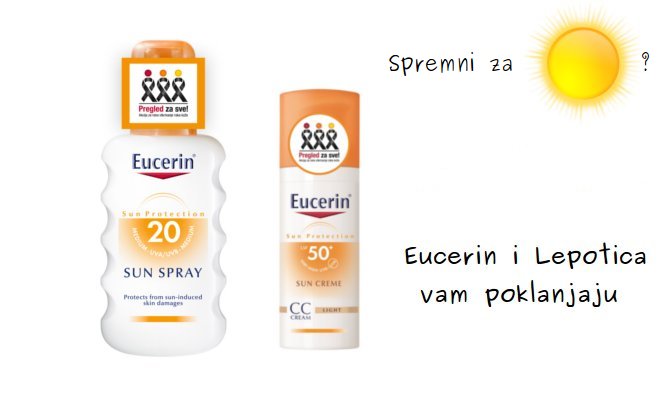 Kako da osvojite Eucerin poklon set?
Ispod OVOG posta (koji upravo čitate) ostavite bilo koji komentar!
I to je to. Srećno svima!
Napomene:
*Dobitnik će biti izvučen Random generatorom i proglašen na našoj Facebook stranici 22.07.
*Možete ostaviti 1 kometar.
* Dobitnik će biti kontaktiran putem email-a koji napiše prilikom dodavanja komentara i koji se ne objavljuje javno.
*Zbog nemogućnosti slanja u druge države, nagradna aktivacija je ograničena na teritoriju Srbije.